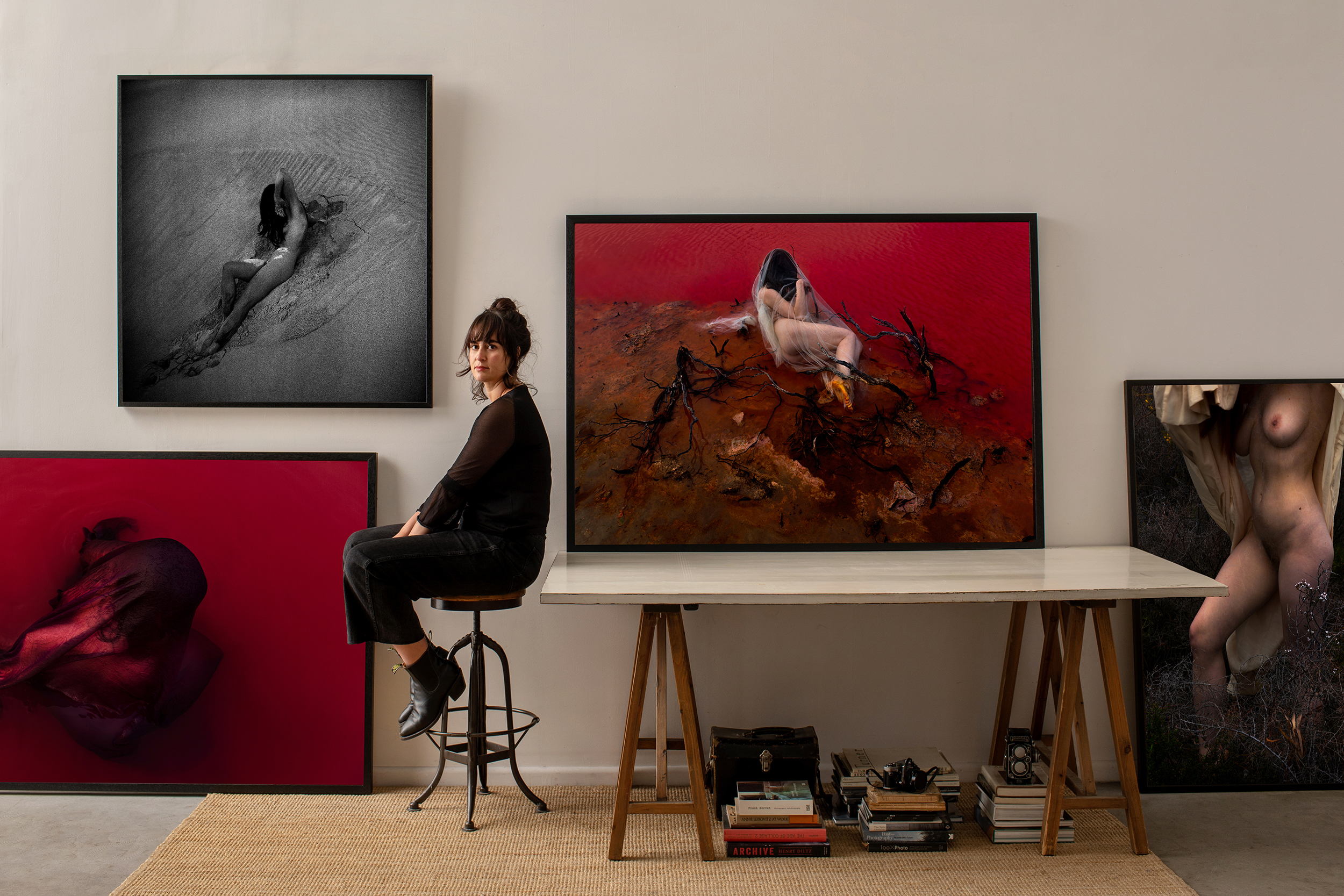 I would like to acknowledge and pay my respects to the people, the Traditional Custodians of the land on which I live, work and make art. I would like to pay my respects to their Elders, past, present and emerging, and acknowledge all Aboriginal and Torres Strait Islanders, also paying my respects to their Elders, past, present and emerging. - Lilli Waters

Lilli Waters (born 1983, Armidale, NSW) is a fine arts photographer whose work explores the human condition through dramatic images of the female form in haunting, windswept landscapes. A Lilli Waters image has a painterly quality, evoking the Pre-Raphaelites with macabre, foreboding elements, a jewel-like palette and a sensitive use of light. Waters makes use of translucent fabrics and long hair to obscure the identities of her subjects, suggesting that the image might be just as much a mirror for the viewer, as it is a portrait.

These images initially appear to represent a romantic idea of beauty and an equivalence between the fertility of the female body and the landscape. Yet in the era of 'Me Too' and ecological crisis, Waters' work offers a critical feminine gaze. Her portraits allude to the conundrum of simply being in a woman's skin: of how to express physical agency and ease in a society that constantly objectifies women and irrevocably wreaks damage on the environment. These are images that convey complex emotions: the interplay of darkness and luminosity, strength and vulnerability, and the possibility for new understandings based on an awareness of our dependence on the earth.

An ecological concern also finds expression in Waters' underwater still life series which reference Northern Renaissance paintings in lighting and composition. Coral Lands (2018) features live marine creatures amongst rocks and flowers to evoke other-worldly landscapes with a palpable feeling of space and slowed time. Waters' representations of luxuriant, yet fragile beauty are a reminder of the imminent loss of whole species and ecosystems as a result of climate change.

Lilli's work has been widely exhibited both in solo and group shows in Tuscany, Frankfurt, Tokyo, London, Sydney, and Melbourne. Her work has appeared in Vogue (Aus), Belle Magazine (Aus), Art Aesthetica (UK), The Opera Magazine (Germany) and has featured in the films Fifty Shades Darker and Fifty Shades Freed (USA). In 2019, 'Utero' was a finalist in the Beautiful Bizarre Art Prize, 'As the World Falls Down' a finalist in the National Photographic Portrait Prize, 'In Dreams' finalist in the Incinerator Art Award, 'Metamorphis' finalist in the Perth Centre of Photography Iris Award, 'Dark Matter' finalist in the NOW Contemporary Art Award, 'Dawning' commended in the Mono Awards and photographic series 'Others Dream' highly commended in Australasia's Top Emerging Photographers Award.

Lilli is represented by Modern Times in VIC and Curatorial & Co. in NSW.

Based in Melbourne, Australia.


AWARDS

2020 Finalist, Percival Photographic Portrait Prize
2020 Finalist, Biennal Adelaide Park Lands Art Prize
2019 Honourable Mention, Budapest International Photo Awards
2019 Shortlisted, Australian Photography Awards
2019 Finalist, Now Contemporary Art Prize
2019 Finalist, Beautiful Bizarre Art Prize
2019 Finalist, Iris Awards, Perth Centre for Photography
2019 Commended, The Mono Awards
2019 Finalist, Incinerator Art Award
2019 Highly Commended, Australasia's Top Emerging Photographers Awards
2019 Finalist, National Photographic Portrait Prize
2018 Finalist, Australian Photography Awards
2018 Finalist, Art Aesthetica Art Award
2017 Finalist, Contemporary Art Awards
2017 Finalist, National Still Life Award
2017 Finalist, Click 17, Brunswick St Gallery
2017 Semi-Finalist, Head On Portrait Prize
2015 Semi-Finalist, Head On Portrait Prize
2013 Finalist, Head On Portrait Prize
2013 Highly Commended, Qantas Soya Photography Award
2012 Highly Commended, Doug Moran National Contemporary Photographic Prize
2012 Semi-Finalist x 2, Doug Moran National Contemporary Photographic Prize
2012 Highly Commended, Qantas Soya Photography Award
2011 Winner, Focus Project People's Choice
2002 Photographic Folio of the Year, Photographic Imaging College
SOLO EXHIBITIONS

2020 ANTHROPOCENE - THE AGE OF HUMANS Online exhibition, Curatorial & Co. Opening 9th June
2019 REAWAKEN Craig's Royal Hotel in collaboration with the Ballarat International Foto Bienanale, VIC
2019 UNTITLED Metro Gallery, Melbourne VIC
2019 OTHERS DREAM Modern Times, Melbourne VIC
2019 THINGS OF FIRE AND ASH, REMEMBERED Victoria Police Museum, VIC
2018 CORAL LANDS Saint Cloche Gallery, Sydney NSW
2017 PLASTIC FISH Junior Space, Melbourne VIC
2015 ANJA Red Gallery, Melbourne VIC
2013 THINGS OF FIRE AND ASH Victoria Police Museum, Melbourne VIC, touring Nationally
2012 SHE RAW Edmund Pearce Gallery, Melbourne VIC
2012 SHE RAW Blak Dot Gallery, Melbourne VIC
SELECTED GROUP EXHIBITIONS
2020 Loud and Luminous, Contact Sheet Gallery, Sydney
2019 Summer Group Exhibition, Metro Gallery, Melbourne
2019 Chapter One, Pix on Location, Sydney
2019 Ritual Practice, Modern Times, Melbourne
2019 Rose Rouge Kaisu, Tokyo, Japan
2019 Midyear Selection Exhibition, Metro Gallery, Melbourne
2019 Winter Group Exhibition, Metro Gallery, Melbourne
2019 Loud & Luminous, Head On Photo Festival, Contact Sheet Gallery, Sydney
2019 National Photographic Portrait Prize, National Portrait Gallery, NSW, touring Nationally
2019 Sun Celebrates Her, Sun Studios, Melbourne
2019 Her Wild Dreaming, Schoolhouse Studios, Melbourne
2019 Fifty Squared Art Prize, Brunswick Street Gallery
2018 PCP Collective, Perth Centre for Photography
2018 ILFORD CCP Salon, Contemporary Centre of Photography
2018 Summer Group Exhibition, Metro Gallery
2018 The Luxury of Landscape Pilazzo Pandolfini, Tuscany, Italy
2018 The Last Line of Defence Besser Space, Melbourne
2018 Candyland for CanTeen Art Auction, NAB Graduate Fundraiser, Melbourne
2018 Hyper 222, Roslyn Gallery, Melbourne
2018 Contemporary Art Awards
2017 STILL National Still Life Award, Coffs Harbour Regional Gallery, NSW
2017 Her Way 5 Rankins Lane Gallery, Melbourne
2016 BlümchenSex Palmengarten, Frankfurt, Germany
2016 Phantom Paradise, Saint Cloche Gallery, Sydney
2015 Keeping Company: Saltwater Manly Art Gallery, Sydney
2015 Unreal Head On Photo Festival, M2 Gallery, Sydney
2015 Anja Pop-Up, Leonard St, Melbourne
2014 Head On Photo Festival, Sydney
2013 Stockroom Carbon Black Gallery, Melbourne
2013 Art in Mind, The Brick Lane Gallery, London
2013 Head On Photo Festival, State Library of NSW
OTHER
2018 Featured on Mirror Art Bites, ABC documentary series
2017 Works featured in Universal Pictures films, Fifty Shades Darker and Fifty Shades Freed
2015 'Anja' book launch, Blak Dot gallery
2013 Speaker, Semi-Permanent Creative Global Conference, Melbourne and Brisbane
2012 'She Raw, The 41 Women's Portraits' book launch Asia-Pacific Photobook Archive
PRESS
2019 Austrian Living Magazine, Austria
2019 The Opéra Magazine, Vol. VIII, Germany
2019 Vogue Living Magazine Others Dream Feb / March Issue
2018 Capture Magazine Sep / Oct Issue
2018 Noblesse China Magazine
2018 Photo Essay Nature & Human Beings Future Now, 100 Contemporary Artists
2018 Real Living Magazine
2017 Das Magazin
2017 The Opera Magazine, Issue 6 2017 The Age, Sunday Life
2016 Yen Magazine, Issue 83, Pistil
2016 Australian House & Garden Magazine
2016 Yen Magazine, Creative Issue 83, Floral
2015 Tallulah Magazine, UK
2015 Art Aesthetica Magazine, Feature
2015 Melbourne Observer
2015 Blink Magazine, Issue 42
2015 Interview Elle Magazine, August Issue
2014 Daphne programme for La Monnaie, Belgium
2014 Book Cover, La Sage Femme, Katja Kettu, France
2014 Yen Magazine Issue 71, Old Cotton
2014 The Opera Magazine Issue 3, Germany
2014 Kai'outi Magazine
2014 The Issue Magazine
2014 Spook Magazine
2013 Peppermint Magazine, Issue 14
2013 Yen Magazine Issue 62, Black Saturday
2013 Minx Magazine
2013 Rattapallax Magazine, USA
2013 Fine Line Magazine, USA
2013 The Modern and Contemporary Art, France
2013 Fashion Trend Magazine
2012 Yen Magazine Issue 56, I Am Woman
PUBLICATIONS
2020
Artdoc Magazine
2019
Art Thy Neighbour
2019
Modern Times Journal
2019
The Age
2019
The Design Files
2018
Feature Shoot
2018
The Design Files
2018
Vogue Living
2018
The Design Files
2018
We Are Scout
2018
Irisi Magazine
2017
The Design Files
2017
Peppermint Magazine
2017
The Design Files
2016
Yen Magazine
2016 Label Magazine, Poland
2016 Studio Home, NZ
2016
Fubiz, France
2016
Gooood, China
2016
Trendland, USA
2016
Juxtapoz Magazine, USA
2016
Plain Magazine
2016
Looks like Film
2015
Aesthetica Magazine
2015 Melbourne Arts Club
2015
Yen Magazine
2015 Australian Arts Review
2015
Pop.Edit.Lit
2015
Tweed Daily News
2014 Gorgeous Artgirl
2014
The Quiet Front
2014
Fstoppers
2014 Chromatic Watch
2014
iGNANT Magazine, Germany
2014 Thisispaper Magazine, Poland
2014
GUP Magazine
2014
Worbz
2013 S O S H A L L W O R K
2013
Shock Blast
2013 Flanelle Magazine
2013
My Modern Met
2013 City Like You, UK
2013 Studio Home, NZ
2013
Milkbar Magazine
2013 Clik Clik, France
2013 Australian Infront
2013 File Magazine
2012 Interviews Aloud
2012 We are Selecters
2012
Acclaim Magazine
2012 Beautiful Savage
2012
Frankie Magazine
2012 EB Cult, USA
2012
The Age
2012
Eat Read Love
2012 Empty Kingdom, USA
"The windswept drama of the carefully composed, haunting landscapes of Melbourne-based artist Lilli Waters is interspersed with predominantly female figures whose incandescent skin,
enshrouded in jewel-toned fabrics and illuminated by firelight, offsets the water-logged darkness of their surroundings.
At first glance the photographs appear laden with doomed romance and a macabre eroticism. It is only on closer inspection that the viewer begins to glean a message of empowerment.
The images are delicate and audacious, offering insight into the complexity of their inhabitants, just as the elemental background evokes a sense of foreboding.
Waters challenges the conditioning of women in contemporary culture, which she attributes to an internalisation of sexism.
Through her photographs, Waters encourages self-acceptance, emotional awareness and defiant celebration in her subjects and, subsequently, in herself."
Art Aesthetica
︎
︎